Have you been searching for a concealed carry t-shirt that will fit your needs? We have been there. You are probably worn out from shopping around for concealed carry t-shirts, which is why we decided to take the time to conduct research and review options so you can save yourself the hassle and stress of shopping around.
In this article, you will find up-to-date reviews of our top seven choices of concealed carry t shirts, as well as helpful information such as sizing tips and specific product features for each.
Concealed carry shirts can be very utilitarian, making them suitable for work or other situations where you need to be dressed. One of the extra safety features of a concealed carry shirt is that they don't show that you are carrying a weapon.
This is because there are different concealed carry shirts available to accommodate the different ways you can hide a gun.
Why Choose A Concealed Carry T-shirt?
Millions of people worldwide wear their concealed carry shirts to work undergarments or on special occasions such as weddings, dates, or parties. The shirts have hidden pockets where you can safely and efficiently place your weapon for instantaneous use.
Concealed carry t-shirts are great for people who want to protect themselves and don't feel comfortable having a weapon on them at all times. This is particularly specific to women, but anyone can use one of these shirts to protect themselves.
Different Styles Of A Concealed Carry T-shirt
There are several shirt styles to consider. As well, you should consider how you want to carry. Right, left? Button up? V-neck? Crew neck?
There are just so many choices. If you are a traditionalist and prefer to wear a shirt with a gun on your right hip, it doesn't matter what kind of shirt it is.
The Best Tips For Choosing Your Concealed Carry T-shirt
When shopping for a concealed carry shirt, there are some things to look out for.
Make sure that the shirt is thick enough to keep the gun from showing through.
Make sure that the shirt isn't too thick because it will make you hot in the summer.
Pick neutral colors, such as grey or black, because they go with everything.
Find out what size would fit you best.
These tips will encourage you to feel more confident when carrying your weapon. If you are looking for a more personalized approach, however, then a few precautions are urged.
The shirt that you choose should have these characteristics, so it's safe to wear any time. I'll detail these factors and tell you what I think the best-concealed carry shirts are below.
Our Top 7 Concealed Carry T-shirts Are On Amazon Right Now
It can be exhausting finding an affordable, comfortable, concealable gun shirt practical for everyday wear. After hours of searching for a product that provides everything you need and wants in a gun-related product, we decided to do the work for you by conducting thorough product research and providing up-to-date reviews to make the best decision possible when choosing a concealed carry shirt.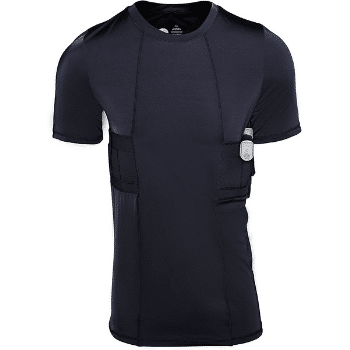 Price: $13.19 – $39.99
Ratings: 4.3 out of 5
Description: Made of polyester and available in three different colors, Greystone's concealable holster t-shirt is comfortable and functional. As an ambidextrous t-shirt, this is perfect for right-handed or left-handed wearers.
And, it can double as a compression shirt for maximum comfort under button-down shirts. It can conform to any body type and is especially great for long-term wear. In addition, Greystone's offers breathability and compression in a machine washable t-shirt.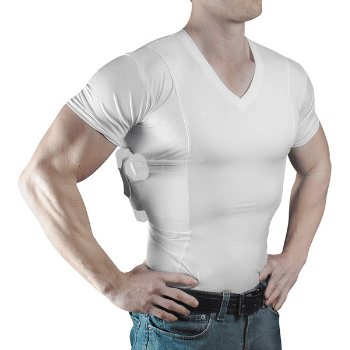 Price: $24.00 – $49.00
Ratings: 4 out of 5
Description: ConcealmentClothes men's v-neck is breathable, soft, and moisture-wicking, all while concealing your weapon with ease. With both left and right holsters, this shirt is ambidextrous.
And, ConcealmentClothes has included extra pockets to help store items like your keys, a phone, or a mag. With the anti-odor fabric, you can enjoy wearing this t-shirt all day before throwing it in the wash.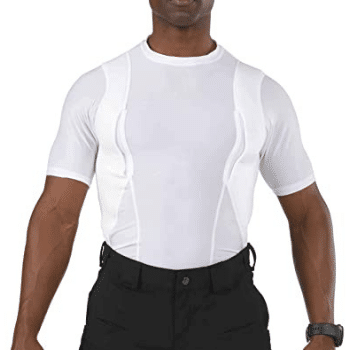 Price: $29.99 – $69.99
Ratings: 4.4 out of 5
Description: The 5.11 tactical men's holster shirt is perfect for everyday wear and tear (made of polyester and spandex). With mesh shoulder straps to distribute weight, you get the most while being comfortable and having mobility.
With spacious pockets, you have the option to carry magazines and your keys, your phone, and a small wallet. So, whether you wear it every day or just on the weekends, the 5.11 tactical men's holster shirt is a great option.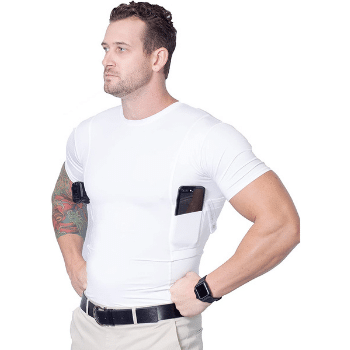 Price: $34.50 – $37.99
Ratings: 4.3 out of 5
Description: AC UNDERCOVER Concealed Carry Shirt works great for left-handed or right-handed shooters. With identical concealment pockets located on both sides, you can quickly draw your weapon when required.
And, this shirt can comfortably be worn underneath a button-down shirt so you can easily access your gun. There is no restriction of movement and great for your self-defense gun.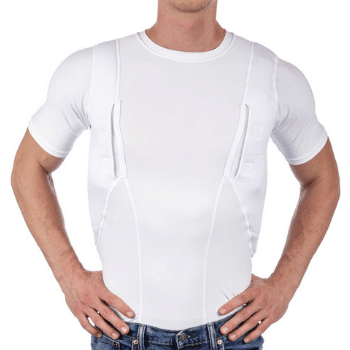 Price: $39.74
Ratings: 4.3 out of 5
Description: CCW Tactical Holster Shirt for Concealed Carry is great for every season. It's lightweight and moisture-wicking making it great for summer or winter, and the seamless shirt is great to work around chafing.
With the extra built-in pockets, you can store your phone, wallet, MP3 player, and more! The holster is layered with mesh and padded for ultimate comfort. And, CCW has a lifetime guarantee!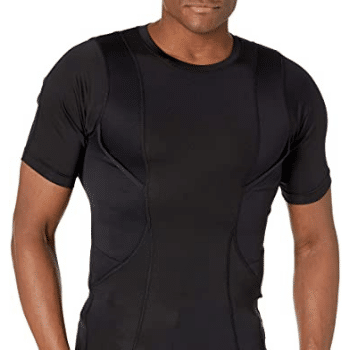 Price: $46.25 – $64.03
Ratings: 4.5 out of 5
Description: Tru-spec's short sleeve concealed carry t-shirts are made of polyester and spandex, making it comfortable and easy to wear long-term. Although it is made for concealed carry, you can accommodate your magazine, electronics, keys, and wallets.
Made of materials that encourage moisture-wicking, Tru-spec's short sleeve shirt is anti-chafing. And it can be used by left-handed or right-handed carriers.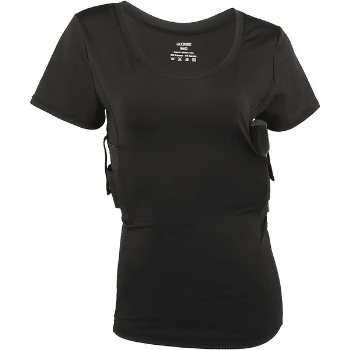 Price: $21.99 – $23.99
Ratings: 4.3 out of 5
Description: Lilcreek women concealed carry t-shirt is a high-quality compression shirt that can also hide your weapon. With a scoop neck, the fit is comfortable and easy to wear all day.
So whether you are wearing a button-down shirt or a zip-up hoodie, you can easily access your weapon on the go. And, because of its slim-fit, you can wear it alone without a shirt on top.