We've put together a shortlist of the best concealed carry tank tops we could find. There are several brands, but today we'll just focus on the five best-concealed carry shirts. You can use the pros and cons to help you decide which is the best shirt holster for your lifestyle, needs, and budget.
Navigating the sea of concealed carry tank tops can be tricky. While many accomplish the task, within this guide, we've highlighted the best. We'll explain why each stands out from the rest, looking at different factors to explain what separates them from the crowd.
Top Questions To Ask Yourself Before Purchasing A Concealed Carry Tank Top
Before you dive in and make a purchase, there are a few things you need to consider. First, it's hard to pick up the right concealed carry tank top when there are many options. With so many concealed carry tank tops on the market, making the right choice can seem complicated. Second, it's easy to get distracted by attractive offers, but if you know what you're looking for, start with a few critical questions:
Are you able to conceal your firearm?
You always want to make sure that you can appropriately conceal your firearm within the shirt to provide ease of use and draw. Also, consider the draw orientation and location of the holster. Finally, consider the safety and security of your shirt.
How often will you wear the tank top? 
Not only how frequently will you wear the shirt, but when and where? It is essential to understand your intended use. Do you need something that has a water-resistant fabric? Also, are you looking for something machine washable? Check reviews and descriptions of shirts before purchasing on Amazon.
What other kind of clothing do you have? 
This seems off-topic, but a concealed carry tank top can often be worn under clothes. For example, are you going to wear the tank top under a work shirt? Are you going to wear it as your only shirt? You will want to consider these questions, particularly when looking at different holster styles and locations.
Top 5 Concealed Carry Tank Top on the Market
If you're new to concealed carry, finding the right tank top might be difficult. That's why we've done it for you; we've reviewed and outlined some of the best out there. We looked at various factors, including comfort, portability, and concealment ability, to ensure that only the best was included.
Finding the right concealed carry tank top can seem tricky. With this guide, we'll help you avoid bad purchases. This guide will tell you what to look for and explain how each of the selected items is different from the rest. They've been determined based on quality, style, comfort, and price.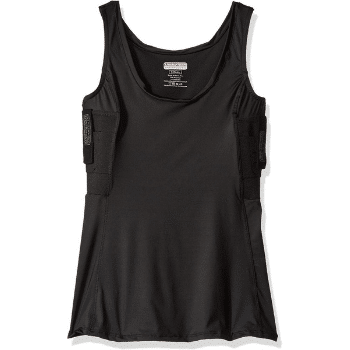 Price: $59.50 – $70.72
Ratings: 4.3 out of 5
Description: Undertech Undercover's concealment tank is made in the US and crafted from polyester and spandex. Because of this, Undertech Undercover's tank is extremely comfortable!
Whether you are looking to use the holsters to carry two handguns or always prefer to have a spare magazine, this tank top can meet your needs. And, there is even extra space to hold your cell phone or a small wallet.
Available in black, white, or nude, you can throw this tank in the wash and use a tumble dry making it even easier to use.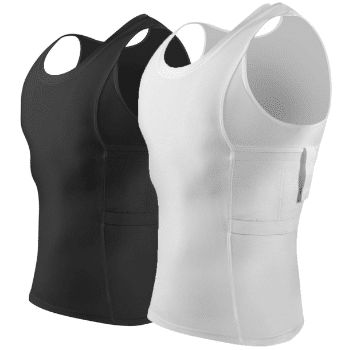 Price: $29.99 – $49.99
Ratings: 3.9 out of 5
Description: ConcealmentClothes' compression tank is a comfortable option for both left-handed and right-handed shooters. With a handy strap clasp, you can draw quickly and with ease.
The versatile tank is available in a two-pack (black and white) and is machine washable, making them perfect for everyday use. And, with the extra pockets, you can easily carry your cell phone or a small wallet.
Because of the compression built into this tank, it is great for all-day wear. And, it fits comfortably underneath your button-down shirts!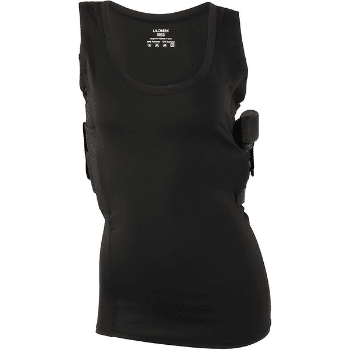 Price: $23.99 – $24.99
Ratings: 4.4 out of 5
Description: Lilcreek's concealment tank top is breathable and comfortable! Made of spandex and polyester, it is stretchy, form-fitting, and great for storing two handguns.
With an extra built-in pocket underneath the holsters (located under each arm), you can easily keep a spare magazine or your cell phone. If you are wearing a button-down shirt, you can easily access each gun for a quick draw whenever required.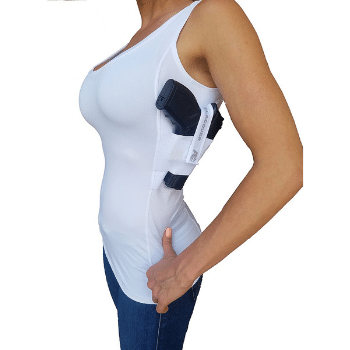 Price: $34.99 – $99.99
Ratings: 4.5 out of 5
Description: The concealed tank from AC Undercover does not restrict movement and provides support while concealing up to two handguns. Available in black and white, you can purchase single tanks or three packs if you'd prefer.
However, with holsters located under each arm, it is essential to note that these tanks run snug intentionally, so your firearm does not move around while you're wearing it. And, whether you need to store your cellphone or want to carry a small wallet, the extra pockets located under the holsters are precisely what you need!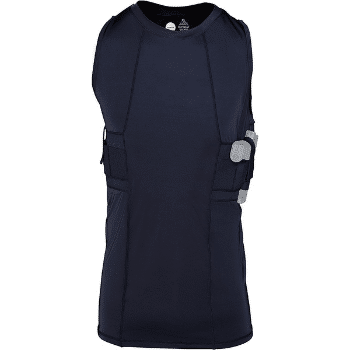 Price: $25.99 – $34.99
Ratings: 4.4 out of 5
Description: This durable, spandex-cotton blend concealment tank top is the perfect option for anyone looking for a longer alternative that can be tucked in with ease. Great for long-term wear, this tank is durable and breathable.
Greystone's holster tank can hold one handgun under each arm. And, with the compression material, it fits comfortably and snugly even after repetitive use. Machine washable, this tank is an excellent option for anyone!
---
Here's the bottom line. Good concealed carry tank tops could save your life. You may have to draw your weapon at a moment's notice to protect yourself or someone else.
It may be dark out, or you might be surprised by a criminal who strikes when you least expect it. No matter what situation you find yourself in, you need to know that you can trust your gear.