Perhaps the most misunderstood of all Glock models is the G40. The concept of a "Glock Forty" has become over-generalized and might refer to the caliber or it might simply mean the person has a Glock (maybe) in some unknown chambering. In fact, if you type "Glock 40" into the manufacturer's website search bar the results bounce back with a list of over a dozen guns and not a single one of them is the actual G40. No wonder there's confusion.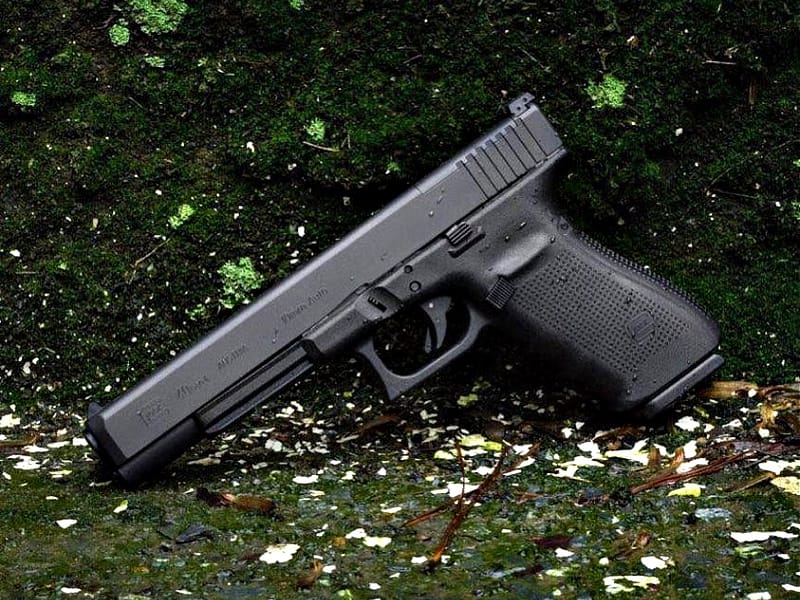 What is the G40?
We're glad you asked. If you're interested in learning more about the G40 and the difference between some of the Glocks chambered in the caliber itself, read on.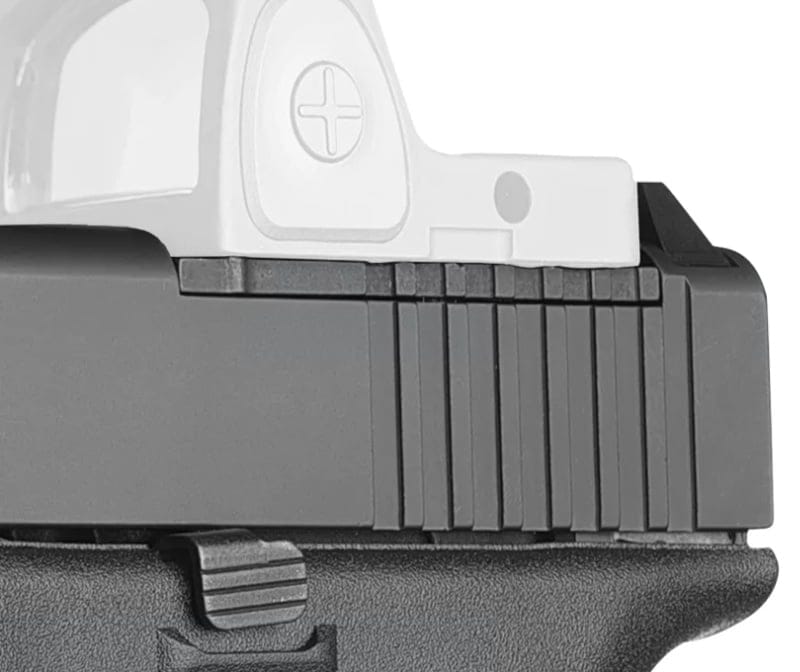 History
The Glock 40 Gen4 MOS isn't a 40 at all but is chambered in 10mm which is technically the predecessor of the .40 Smith and Wesson. This model was designed with handgun hunters in mind thanks to its longer barrel, larger-bore chambering, and optics-ready milled slide — but it isn't limited to hunting use alone. You can use a full-sized, long-barreled 10mm like the G40 for open carry. Never let it be said that self-defense is only for 9mm.
It was 2015 when Glock finally got around to creating the G40. Glock officially launched the gun at SHOT Show 2015 along with its entire line of MOS (Modular Optic System) guns, giving not only hunters but competition shooters the ability to buy their guns from the factory ready for red dots. The full-size 10mm G20 had already been around for some time at that point but its overall bulk made many shooters consider it unwieldy. It was solid timing for the G40 launch and, if anything, the gun was even more well-received than anticipated.
Basically, the G40 is a streamlined, sexier version of the G20.
GLock 40 Specs
The best side-by-side comparison for the G40 is the G20 but we'll throw the G29 in there, too, since it's the compact version of the 10mm:
| | | | |
| --- | --- | --- | --- |
| MODEL | Glock 29 | Glock 20 | Glock 40 |
| Caliber | 10mm | 10mm | 10mm |
| Overall Length | 6.97 inches | 8.07 inches | 9.49 inches |
| Slide Length | 6.77 inches | 7.60 inches | 9.02 inches |
| Barrel Length | 3.78 inches | 4.61 inches | 6.02 inches |
| Slide Width | 1.12 inches | 1.12 inch | 1.12 inch |
| Weight (Empty) | 26.81 ounces | 30.69 ounces | 35.45 ounces |
| Capacity | 10 (standard) | 15 (standard) | 15 (standard) |
| Line of Sight (Steel) | 5.87 inches | 6.73 inches | 8.27 inches |
| Height (with Magazine) | 4.53 inches | 5.51 inches | 5.47 inches |
| Trigger Distance | 2.85 inches | 2.85 inches | 2.85 inches |
10mms are heavier guns than those chambered in 9mm or .40 Smith and Wesson. But even as intimidating as the G40 specs may appear it truly is a sleek long-slide pistol. For example, there are steel-framed hunting handguns on the market chambered in 10mm that weigh 41 ounces, empty. It's all a matter of perspective. Glock does an excellent job making lighter-weight, reliable guns and that goes for their 10mms, too.
Defining Features of the Glock 40
The concept behind the G40 was to make a 10mm with a longer barrel for greater velocity while retaining a higher magazine capacity, and Glock did get that done. Making it part of the MOS line ensured it would fulfill the desire most handgun hunters have to put optics of some sort on their hunting-specific handguns. It was possible before but involved either having the slide milled to take an RDS or finding the correct-sized base plate to mount the RDS to the gun. With the G40 Gen4 MOS it's good to go right out of the box.
Features include the expected flat-black finish and shipping from the factory with standard white sights. No, the G40 does not come with an RDS of its own; the choice of RDS is in your gun hands. As a Gen4, the G40 does retain finger grooves which is a matter of some debate among Glock owners. The issue with those from-the-factory grooves is they don't fit every hand size in existence. In fact, it seems they tend not to fit anyone quite right. It is possible to have your Glock customized to remove the finger grooves, that or you can add a soft rubber Hogue grip to soften things a bit.
This gun does have the Modular Back Strap design meaning you can swap out backstraps to customize the gun's fit to your hands more specifically. Those backstraps can and have made all the difference for countless gun owners. Also part of the customization-related specs is the reversible magazine catch — yes, in Glock terminology it is a "catch" not a "release" — so you can move the button over to the other side if you're other-handed or working mirror.
Other features include the usual Rough Texture Glock grip, rearward slide serrations, and an accessory rail. Accessory rails are fantastic for lights and lasers, the latter of which are awesome for hunting but also helpful for self-defense guns. If you want to step it up a bit, get a light-and-laser combo from a reputable manufacturer like Streamlight.
As for the MOS part of the G40, the gun ships from the factory with an adapter set. The set includes four base plates, screws, and a tiny wrench. Those plates fit a variety of RDS and can be inserted in the milled and drilled slide as needed. The Trijicon RMR is a popular choice for this gun but there are myriad RDS options on the market. If you're not interested in using an RDS you can leave the original plate in the slide which fits flush with the slide's shape to reduce risk of snags.
Performance
Glocks deliver somewhat predictable overall performance. They're typically predictably reliable, cycling round after round without complaint, and the G40 is no exception. This model eats everything from Remington Hog Hammer 10mm 155 grain Barnes XPB to Buffalo Bore Heavy 10mm Outdoorsman 220 grain FN to Inceptor Preferred Defense 10mm 90 grain ARX. Yes, really. Not much is better in life than guns that aren't finicky.
Shooting from the bench at 25 yards the G40 produces five-shot groups averaging 2.5-inches to 3.5-inches depending on the load. It rings steel consistently at 50 yards as well. This is an accurate gun that's more than suitable for hunting and self-defense use.
The trigger of the G40 is better than triggers found on earlier-generation Glocks. It has an edge for smoothness and reset that's welcome; you may not be inclined to immediately replace the trigger. According to the Lyman Digital Trigger Pull Gauge, the average trigger pull weight of the G40 is 5 pounds, 5 ounces.
This is a well-balanced gun that isn't excessively unwieldy for shooting offhand. It's wise to shoot from a rest of some sort for hunting but it isn't impossible to fire accurately while standing, kneeling, or prone. Added stability will always aid you in shot placement so whenever possible take the time to brace and support the gun.
But, My Glock Forty!
Say it with us: your Glock should be referred to by its model name, not its caliber, and definitely not using a generic one-size-fits-all phrase. The good news is, if Glocks chambered in .40 Smith and Wesson are your thing, you're more than covered. Glock offers a wide variety of models in the once-popular caliber including the full-size G22, long-slide G24, compact G23, and sub-compact G27. There's even a G35 for competition shooters.
Choosing one .40-cal model of Glock as The Best is a subjective process. It all depends on your needs and hand size. That said, the G27 is a nice little concealed carry pistol chambered in a round that does indeed give you an edge over 9mm. The G27 has a standard magazine capacity of 9 rounds plus one in the chamber for a total of ten available rounds. It weighs in at 21.34 ounces empty and 26.46 ounces with a loaded 9-round magazine which isn't bad at all for a self-defense pistol. The sub-compact frame makes it easier to conceal in a variety of clothing but it's true the double-stack grip makes concealment more challenging. Frame size does not impede accuracy. If you're concerned about a hanging pinkie finger add a Pearce Grip Extension. It's a win-win; the G27 remains concealable and your grip is improved. Overall the perfect EDC for fans of the .40 Smith and Wesson.
The Glock-Bottom Line
10mm has a place in the gun world and it isn't limited to handgun hunters. The G40 gives shooters the ability to open carry an optics-ready Glock with a barrel long enough to not only improve velocity but enhance precision. Concerns about over-penetration in a self-defense scenario are rendered a bit moot when you consider the reality that any caliber gun you carry is a risk for over-penetration. That's why carry guns should only be loaded with high-quality self-defense rounds, not target loads, and why you must get proper training.
The G40 is a balanced polymer pistol chambered in a capable cartridge. It is well worth checking out whether you're into 10mm or not. Just remember: the G40 is a 10mm. The .40-cal Glocks are not G40s.