When it comes to concealed carry, having the right concealed carry belt is very important. Normal belts are too light, and pliable, which results in sagging when you are carrying a concealed firearm on them. They are also not durable enough for concealed carry and don't offer any tactical advantages. Therefore, buying a dedicated concealed carry or tactical belt is very important. These belts are super durable and stiff, which allows them to support the weight of your firearm and make sure that it is easy to draw.  So, if you are looking for the best concealed carry belt, here are some of the best options.
Best leather concealed carry Belt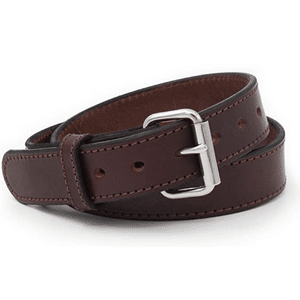 In most cases, a concealed carry belt is going to look tactical, with nylon straps and quick-release buckles. Where such belts are fictional, they aren't the most stylish, to say the least. For instance, if someone is wearing a suit, a Nylon belt would look quite out of place with it.
Therefore, the Relentless Tactical Ultimate Concealed Carry leather gun belt is an excellent option. made from 1.5 Inch, 14-ounce, Premium Full Grain US Leather It is durable and strong enough to carry your gun and other gear. It is ideal for both IWB and OWB carry.
The thick and heavy-duty leather belt won't sag under the weight of your pistol and will make carrying a gun a lot easier while looking stylish as well. The Relentless Tactical Ultimate Concealed Carry belt is made 100% in the USA and they also offer a lifetime warranty.
Best Nylon Concealed Carry Belt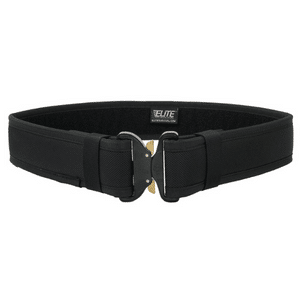 Now, if you are looking for a very tactical duty belt, to carry your pistol, extra magazines, and other gear, then the Dura-Tek Molded Duty Belt is an excellent option.
Constructed with1050 Ballistic nylon this belt is super durable, and it also has internal stiffeners to make the belt stiff and sag-free, no matter how heavy your pistol. The internal foam padding on the belt also makes it very comfortable.
The DURATEK MOLDED DUTY BELT is an outer belt, meant to be used with an inner pant belt. It is 2.25 inches in width, and has a quick-release velcro buckle as well, which can be adjusted to change the size of the belt as well. Overall, this belt is available in 4 different sizes, from Small to Extra Large.
Best Tactical Concealed Carry Belt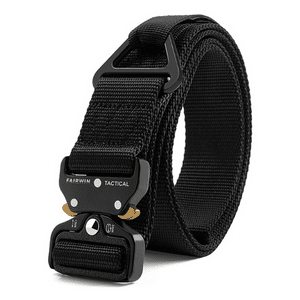 Fairwin is one of the more popular brands when it comes to concealed carry belts, and if you are looking for a tactical and practical concealed carry belt, their tactical quick-release belt is a great option.
The FAIRWIN Tactical Heavy-Duty Quick-Release belt is made from high-quality 1000D environment-friendly Nylon and it features a heavy-duty metal alloy buckle. It is super durable, and with the help of the adjustable quick-release buckle is very easy to put on and take off.
The belt is 1.5 inches wide whereas the buckle is 2 inches wide. And the belt is available in different lengths, and 6 different colors. It can be used for both IWB and OWB carry and does not sag even with heavier guns.
Best Value Concealed Carry Belt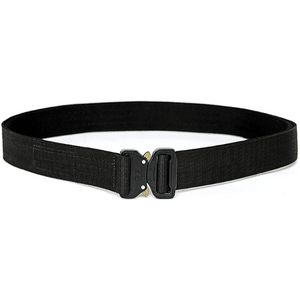 Now, if you are looking for an affordable tactical CCW belt that offers the best value for money, the WOLF TACTICAL Heavy Duty Quick-Release EDC Belt is an excellent option.
The belt is made from heavy-duty stiffened 2-Ply nylon webbing. It is super durable, and won't sag or slide, even with heavy pistols, and additional gear. The Wolf Tactical belt has a quick-release metal buckle, which makes the belt easy to wear and take off. It is also very durable and rugged.
The belt is 1.5 inches wide. Its simple design makes it ideal to wear with any outfit without standing out. It is ideal for both IWB and OWB concealed carry, and also for law enforcement, security guards, and first responders. Wolf Tactical is an American-based company, and they offer a refund guarantee on their EDC belt.
Best Padded Concealed Carry Belt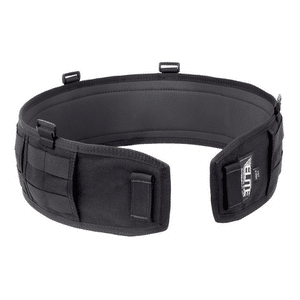 Though the Sidewinder battle belt isn't the best for concealed carry, it is ideal for tactical applications and is very comfortable. This outer duty belt is capable of carrying a lot of weight, and it is an excellent piece of gear to round out your tactical, range, or self-defense loadout.
The belt is 4.5 inches wide and made from 1000D super durable nylon. It can be used with any kind of holsted and has versatile Segmented MOLLE webbing and PALS panels for the attachment of any tactical gear.
The Sidewinder battle belt also comes with harness attachment hardware. This makes it compatible with your chest rig, vest, or plate carrier as well. However, perhaps the best feature of this belt is its comfort. It has an internal closed-cell padding and a vented moisture-resistant interior, which makes it perfect for long-term use.
The sidewinder battle belt is excellent for self-defense, or a range rig, and can be used by law enforcement and security guards as well.