As someone who long ago embraced tinnitus as a reality, I speak now as an older, smarter Travis. Allow me to share some wisdom — 'cause younger Travis was an idiot. Today we are talking about hearing protection. Specifically, we are going to address the muffs vs. plugs debate and figure out what works best for you, what gives you the most protection, and why sometimes it's good to have both.
Breaking Down Hearing Protection
Obviously, there are some serious size differences, but is that it? Well, no, in fact, it's somewhat of a nuanced topic. Today we are going to look at the differences between the two and which makes the most sense for you. Hearing protection can be as simple as you'd like it to be, but it can also get quite fancy.
What are earplugs?
Earplugs are the most common type of hearing protection we see at the range. These little fellas fit inside the ear and should form to your ear. They come in a variety of configurations and can be passive, electronic, come as individual plugs, or linked with a leash. They can be made from soft foam, molded polymer, and some combination of the two.
What are earmuffs?
Earmuffs are those big beasts that attach over your ears to provide protection. They are linked together and vary in size from slim to big bulky beasts. Earmuffs can also be passive or electronic and are typically made from metal and polymer with soft muffs that clip over your ears.
Which type offers the most protection?
This is the big question, right? Their purpose is hearing protection, so knowing which one provides the most protection can be valuable. According to OSHA and the CDC, properly fit earplugs provide the most protection possible. Since they seal the ear from noise, they can provide an extreme degree of protection.
The keywords here are "properly fit." If the earplugs are not properly fit, then you are going to know quite quickly. Earmuffs admittedly pop on, and if you wear them wrong, well, you're an idiot. Either way, you need one or the other, and sometimes you might need both. If you've ever been at an indoor rifle range, you've likely experienced the need to double up in one way or another.
Let's break both forms of hearing protection down and talk pros and cons.
The Pros and Cons of Earplugs
Positives
First and foremost, for shooters, the biggest pro will be providing the best hearing protection possible. Earplugs can potentially block more noise than earmuffs. That's the biggest benefit, but what shooters will likely pay the most attention to is cheek weld.
Earplugs provide adequate hearing protection while also providing a superior cheek weld. Earplugs take up less room and allow a shooter to get nice and tight on the weapon for using the sights, optics, and more.
As a Florida guy, I appreciate trying to be as cool as possible, and earplugs are admittedly a fair bit cooler than earmuffs with their smaller size resulting in a little less sweat popping in and out. Of course, you can go very simple or very fancy with earplugs. The simplest being the stand-squishies that fold and form into your ears that can cost a few cents. And on the fancy end, you have Bluetooth electronic plugs that cost several hundred dollars.
Finally, they are very easy to store and travel with. They take up less room in a range bag and can be tossed in your pocket when you get off the range. They make it really convenient in your downtime to not deal with hearing protection.
Downsides of Earplugs
The biggest downside to me from the annoyance and time it takes to properly fit them to your ears. Earplugs can be inconvenient to pop in quickly, and you want a proper fit to ensure the plugs offer the most hearing protection possible.
Retention can also be an issue. The issue mainly revolves around those plugs staying put. If the fit isn't right, they can become loose and slip out. They typically don't just fall out, but the seal can be broken. When the seal is broken, you are losing out on valuable hearing protection.
Earplugs tend to get dirty easier and tend to be tougher to clean. I'm not talking about just your dirty ears, but they tend to pick up dirt and debris, and you could be shoving that directly into your ears. So keep these things clean.
Oh, and if you write articles on the internet, people will say, "wHeRes YoUr EaR pRo?" Because they can't see the plugs in your ears.
The Pros and Cons of Earmuffs
Benefits
The biggest benefit to earmuffs is the toss-on-and-go nature of them. You toss them on, and bam, your hearing protection is in place—no need to fit them or look for a correct seal. Just toss them on, and you're good to go. While earplugs ultimately provide more hearing protection, earmuffs are simpler to use in an effective manner.
Also, I tend to find earmuffs more comfortable. That might just be me. I've recently gotten into some higher-end earplugs that might sway my decision. However, I've always found the wrap-around-the-ear design to be more comfortable than something stuck into my ears.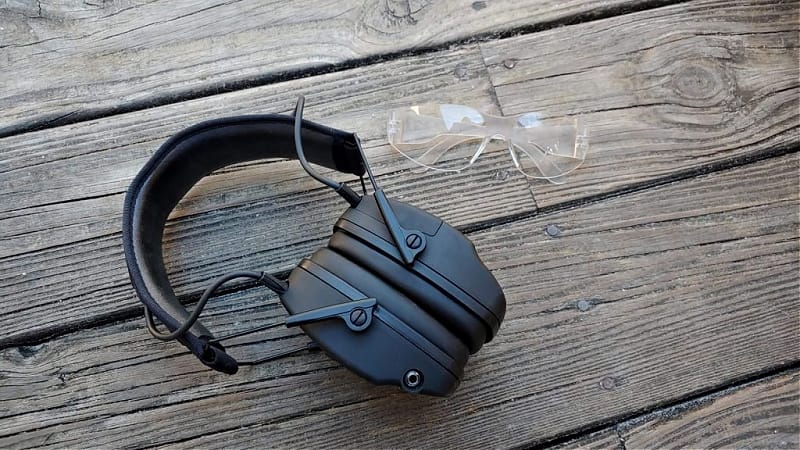 Earmuffs are tough to slide out of place, and once they're on, they stay on. They are larger, which does make them tougher to lose and easier to clean. While they might make you sweaty in the summer, they can help keep your ears warm in the winter.
In terms of electronic hearing protection, the earmuff battery life is often larger because, well, they can use bigger batteries.
Drawbacks of Earmuffs
The biggest downside will be working with other gear. Using helmets and hats can be tricky as well as eye pro. Admittedly most modern shooting earmuffs are designed to work with eye pro, so this becomes less of an issue. Higher-end Peltors and Safariland earmuffs use a variety of methods to attach to you and work around helmets.
Another downside is that cheek weld is often compromised. The big muffs can get in the way of getting low on the rifle and shotgun. Although, lots of modern earmuffs have gotten thinner to help a bit with this issue.
The World of Hearing Protection
Hearing protection, like most things, comes in a variety of forms, qualities, sizes, and designs. The gun world loves options, and you can certainly pick and choose the earmuffs or earplugs that work best. What works for you? What do you normally shoot with? Let us know below.