In this article we will look specifically at the Gunbox Guardian handgun storage. We've reviewed lots of gun storage devices of all shapes, sizes and prices.  The Guardian has lots unique features worth exploring.
Handgun Home Storage Importance
Having a handgun in your home for personal defense can give you peace of mind, and help you protect yourself, your family, and your property in case of a home invasion, or robbery. However, the stats clearly show accidental shootings are a serious threat in households that have firearms in them. In fact, in 2020 alone, there were 369 unintentional shootings by children, 142 of which resulted in death.
A Gun Not Accessible isn't for Self Defense
This is why safe storage of your firearms is essential. Any firearm needs to be stored in a safe location where children, or any unauthorized person cant access it.
Most people keep their firearms locked in a locked cabinet or drawer, with the ammunition stored separately. Where that is alright for a range gun or a collectors firearm, your self-defense firearm needs to be stored in a more accessible location, while being safe as well.
Guardian from Gunbox
The Guardian Gun box is a perfect solution. This small gun safe can be used to store your handgun, and it allows it to be easily accessible by you, while also being out of reach of children.

Triple Access Gun Safe
The box can be locked with your handgun inside, and when you need it, the box can be opened instantly with an RFID tag, keypad, or even your fingerprint. Moreover, the guardian gun box has an almost impenetrable shell, made from die-cast high strength aluminum, so it's not going to be easy to break.
Mountable Gun Safe
So, you might be thinking, what if a thief simply steals the entire gun box, with the handgun inside, and tries to break it open with power tools. Well, the Guardian Gunbox also has features to prevent that.
It comes with predrilled holes, which can be used to mount the gun box securely to the ground, or any other surface. Moreover, you also get a security tether cable, which can be used to keep the box in place. In the case that someone does move the box, it has a built-in Alarm system as well, which will sound off if someone tries to move the box, or tamper with it, and you will be notified on your phone as well.
Hydraulic Gun Safe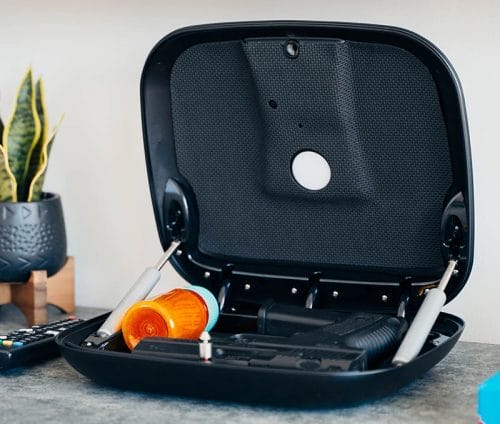 The guardian gun box has a hydraulic opening system, which allows the box to open automatically when you access it with your fingerprint, passcode, or RFID card. It also has an automatic LED light inside it, which makes it a lot easier to grab your gun in the dark.
The Guardian gun box can easily fit a full-sized handgun, and a couple of extra magazines as well. You can also store other small items in the box. Maybe you need to store some cash, jewelry, or maybe your prescription medications as well.
Guardian Gun Safe Phone Charger
Moreover, the Guardian from Gunbox has the additional feature we really love.  It acts as a power bank for charging your phone as well. It has a large battery, and a pair of USB ports for charging your phone, or any other USB-powered devices.
Gunbox The Guardian Final Thoughts
The Guardian Gunbox is available in many different colors and designs. It is a very efficient and safe gun storage box. Not only keeps your gun safe from unauthorized access, doubles as a phone charger.  Perfect for a bedside table gun safe feature.