If you are a gun enthusiast and often worry about damaging your gun while moving it from one place to another, you need a rifle hard case. Not only will it provide better protection from outside forces, but it's foam-lined interior will also prevent the rifle from moving around and scratching.  However, if you don't have any experience with buying rifle hard cases, you will certainly have a hard time finding the right case for your rifle. Here is a list of what to look for and the best rifle hard cases on the market right now.
What to Look for In Rifle Hard Cases
Rifle Case Size
One of the first things you need to consider before buying a new rifle case is its size. Start by taking the dimensions of your rifle and the accessories that you will be carrying along with it.
This way you will be able to accurately gauge what size is best for you. You don't want your case to be too tight or too loose because that can end up damaging your rifle and accessories.
Rifle Case Material
Take a look at the material used both inside and outside the case. The exterior of your case has to be strong and durable whereas the interior needs to be soft and light to bring down the weight of your case.
Rifle Case Weather Resistance
Most rifle cases nowadays come with a built-in water resistance mechanism, however, some are better at protecting your rifle and accessories from outside weather than others. If you plan on using your weapon in damp or wet conditions it is important that your case has top-notch waterproofing.
Rifle Case Weight
Last but not least, is the weight. You don't want your rifle case to be so heavy that it becomes difficult to carry around or too light that you have to compromise on quality. You will have to test a few different cases to determine which one has the most balanced build for you.
List of the Best Rifle Hard Cases
Now that you know what to look for in a quality hard rifle case, we reveal some of our favorites.
Flambeau Outdoors 6500AR
If you are looking for a hard rifle case in an affordable price range, Flambeau Outdoors 6500AR is one of your best options. With a hard plastic exterior and convoluted foam interior, you can rest assured that it will keep your rifle protected from all sorts of internal and external damage.
Moreover, it prevents corrosion with its Zerust-anti-corrosion technology that can activate with a tab releasing a vapor that creates a protective layer around your rifle and lasts for over 5 hours.
As far as the security is concerned, Flambeau Outdoors 6500AR has a 4-point lock system that prevents the case from unlatching accidentally and keeps your rifle protected at all times. This case can easily fit an AR-15 with a scope.
It also comes with velcro straps to secure your rifle and magazines. One of the best things about this case is that it gives you a ton of options at a very affordable price. In Fact, it is one of the most highly rated budget options in the market.
Condition 1 Hard Rifle Case
Made in Texas, the USA, Condition 1 hard rifle case gives you plenty of quality features at an affordable price. Once you open this case up, the first thing you'll notice is the waterproof seal that goes all the way around and the egg crate foam lining the interior for shock-absorbent cushioning. It also has a durable scratch-resistant exterior, which means you won't have to care too much about ruining your case, you could just throw it in your trunk and you are good to go.
This lightweight case comes with the added advantage of being water-resistant which means your firearm will stay nice and safe in moist conditions. This case can serve as an indoor storage box or an outdoor carry case for your hunting and tactical loadout, as it is big enough to fit any single scoped rifle or shotgun.
It has four easy-snap latches and four pre-drilled lock holes where you can insert your own padlocks for extra security. Last but not least it has molded feet to set the case upright horizontally which allows your case to fit in tight spaces when traveling or storing.
Pelican Protector 1700
Pelican is known for making some of the best cases in the market and the protector 1700 is no different. It is a strong and durable case with the added advantage of being waterproof and crushproof.
This is one of those cases where you get the option of customizing your own foam, so you can cut it out for whatever you need. It is best for shorter ARs with collapsible stocks, pistols, and shorter shotguns.
The case has four standard double-throw latches which are extremely easy to open and close and provide you maximum safety. You will also notice the four lock holes upfront just for that added security.
The case has two handles, one to carry the case horizontally and one on the top to roll the case on its heavy-duty wheels. There is also a pressure valve upfront that equalizes the pressure inside your case.
This is a military-grade case that gets thrown out planes, helicopters, and running tracks, which means it is made to tolerate a lot of abuse.
Plano 10-10586
Plano 10-10586 is a great budget option for those who are looking to get a strong and sturdy case for their firearms without spending too much money. Its durable and rigid ribbed construction and contoured recessed latches provide great protection at an affordable price.
It has a molded-in heavy-duty handle to carry the case horizontally, three padlock tabs for added protection, and high-density interlocking foam that will keep your firearm protected. Moreover, the case itself is quite light and weighs under 12 lbs.
Opening the case up you notice the thick padding on both sides and the extra-large storage room that can easily fit two rifles with high-mount 50mm scopes or two shotguns with accessories. With Plano 10-10586 you can rest assured that your gear will always stay protected and ready to use no matter the season, weather, terrain, or technique.
HQ ISSUE Tactical Rifle Case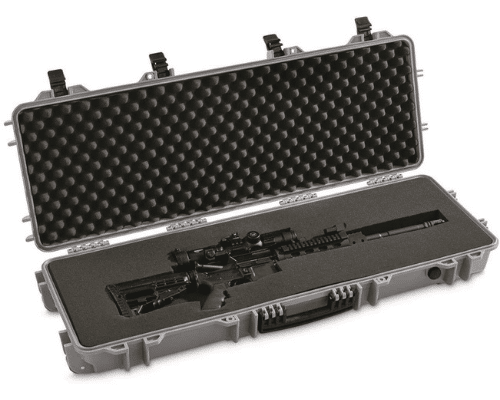 Last but certainly not least on our list of the best rifle hard cases is an offering from HQ. Made from super heavy-duty molded plastic, the HQ ISSUE Tactical Rifle Case weighs around 15 pounds and is 43" long Its interior features sturdy customizable foam padding that will keep your rifle in place while you travel or take it to the shooting range for practice.
Security is one of the most important aspects of any rifle case which is why this case features two padlock holes and four two-stage latches that ensure maximum security all the time. It also features an airlock release which you can use to equalize the pressure inside the case.
The case has two handles, one to lift the case horizontally and the other to pull it around on the integrated wheels. It is on the heavier side as far as the weight is concerned, but its sturdy build allows it to tolerate rough use.
The pick apart foam inside the case can be cut out in any pattern you want to fit a wide variety of firearms. This case is also waterproof and can tolerate rough weather conditions without any problems
HQ ISSUE Tactical Rifle Case gives you great value for money, it's durable, customizable, and most important extremely secure. So, you can rest assured that you will get your money's worth with this hard rifle case.