If you want to become a responsible gun owner you need to make sure you provide a sufficient level of security when storing your firearms, so that they don't fall in the wrong hands. This is why rifle safes are so important. Not only will it prevent unauthorized access to your firearms, but it will also keep them safe from rust and external damage.
However, It can be difficult to choose the best rifle safes because of how many different options there are on the market. However, if you keep a few things in mind you can easily narrow down your choices. Here are some important things to keep in mind when buying a new safe for your rifle.
What to Look for in Quality Rifle Safes
Rifle Safe Locks
Locks are among the most important parts of a safe. Make sure you have a good locking system on your safe to keep the thieves out. UL-listed locks are among some of the best in the world. So look for a safe that has the UL seal of approval before buying any rifle safe.
Rifle Safes Backup Security
In case your primary locking system fails, the backup locks should keep the thieves out. Even the best locks can be bypassed so backup locks, also known as relockers, are extremely important. These locks kick in, the moment your primary locks are bypassed and keep your firearms and other valuables safe.
Rifle Safes Fire Rating
People don't just buy safes to prevent unauthorized access to their valuables. They also want to keep them safe in case of a fire. Some safes have fire ratings that can give you an idea of the kind of temperature they can withstand.
Storage Space
People don't use their safes only to store their firearms, they also want to store other valuables which is why the interior space needs to be big enough to accommodate several things. So, look for a rifle safe that offers a wider interior space or extra compartments for your valuables like jewelry, handguns, and cash.
GND Picks for the Best Rifle Safes
Stack-On Tactical Security Cabinet
Made from alloy steel and designed to hold 22 guns at a time, this versatile security cabinet made by Stack-on is available in a variety of different configurations and capacities to suit your specific storage needs. This durable and affordable rifle safe also features an extra removable shelf at the top, where you can store your ammunition and other valuables.
The lower compartment features foam barrel rests to keep your firearms protected. Its strong alloy steel welded construction makes it highly durable. Whereas the high gloss powder paint finish gives it a clean look.
Moreover, the spacious interior of the safe is big enough to store 22 rifles at a time. It also features a 3-point locking system with a double-bitted key-coded cylinder lock that keeps your firearms and valuables safe and secure at all times.
VAULTEK RS800i
Featuring a tough and durable carbon steel construction VAULTEK RS800i is one of the best smart rifle safes on the market right now. The safe connects to wifi and allows you to manage and monitor it remotely using your phone. It also has a Built-in LCD SCREEN to provide quick visual feedback.
This safe is designed to store more than 8 rifles and multiple handguns. It features a twin pistol rack, an extra shelf, five rifle barrel mounts, and a holster that you can use for a pistol or an AR mag.
The interior is lined with enhanced LED lights that light up the interior when you open the door. Its lithium-ion battery charges in 3.5 hours and lasts over 4 months if used without plugging in. You can access the safe using any one of its four access points. Including an LED Biometric Scanner, a Nanokey, an 8-digit keypad, and manual keys.
With its four solid steel locking bolts, anti-pry bars, ruggedized interior hinges, and impact detection technology, you can rest assured that your rifles and valuables will always stay secure.
Wasatch Rifle Safe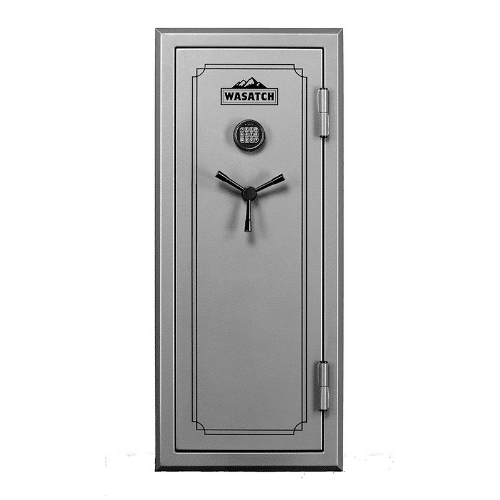 This unique rifle safe by Wasatch is designed to protect your rifles and valuables from fire and water in case of flooding. With a fire rating of 1400 degrees Fahrenheit for 30 minutes and the ability to properly function under up to 2 feet of water for 72 hours makes it the best fire and waterproof safe on the market right now.
It also has an electronic lock with alarm U function, 7 1.5″ live-action locking bolts, and three deadbolts that provide you with the highest level of security. Moreover, its recessed doors and tapered bolts that are pry-resistant add to the already top-notch security of this safe.
The external hinges allow a 180-degree opening which gives you complete access to the interior that can store up to 64 guns. The safe has a 2mm steel construction and is 72" tall to maximize your storage room.
Fortress Gun Fireproof Safe
Featuring a 2mm alloy steel construction and 55" wide storage chamber, this rifle safe stores up to 8 guns at a time. It is also fireproof with a 30-minute fire rating at 1200F. Its Electronic Lock features an Alarm-U function with a theft alert and a deterrent alarm. This keeps thieves away from your valuables.
Its external hinges allow the door to open up all the way. Giving you full access to the storage chamber of your safe. The safe is equipped with 3 1″ long active locking bolts and 2 deadbolts. Also Fortress's patented notch bolt taking the safety of the unit to the next level.
Goplus Rifle Gun Safe
Goplus Rifle Gun Safe is a biometric fingerprint safe that is designed to hold 5 rifles up to 50" long. Its top-notch fingerprint access system provides quick access. It supports several users by storing up to 100 fingerprints at a time. It also has a digital keypad that can have 2 to 3 different passwords and 2 additional emergency keys that you can use in case you forget the password.
There is also a separate lock box on the top inside the safe. Here is where you can put your ammunition, or other valuables like jewelry, cash, and handguns. Its seamlessly welded and pry-proof steel construction in combination with the 5 solid locking bolts makes the safe extremely secure and durable.