There are many things that can make a rife good or bad, however, the most important factor that decides that distinction is reliability. The most advanced firearm, with the strongest caliber, highest capacity, and best range will be useless on the battlefield if it isn't reliable enough. This is why militaries value the reliability of a rifle above anything else, and any weapon that is adopted goes through rigorous testing to prove that it is reliable. Similarly, when you are buying a firearm, either for self-defense, hunting, or simple shooting at the range, you need to value reliability above everything else. We cover the most reliable rifle by five categories. but first…
What Makes a Rifle Reliable?
In simple words, a reliable rifle should fire and complete its cycle every time you press the trigger, regardless of the environment, and other conditions. It shouldn't have any misfires, failure to feed ammunition or ejection failures.
There are multiple factors that can contribute to the reliability of a rifle, the most important being the production quality and design. When it comes to design, there are various kinds of rifles available on the market.
Any design can be reliable if it is built right, however, some designs are inherently more reliable than others because of their simplicity. Maintenance, and how you take care of a rifle can also play a role in its dependability.
Here is a list of the most reliable rifles in every class.
Most Reliable Overall Rifle – AR15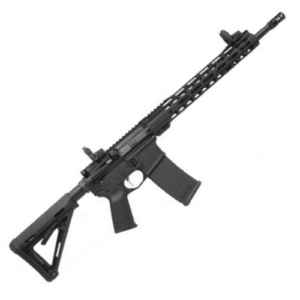 First of all, the most reliable rifle overall is the AR-15. Designed by Eugene Stoner, this rifle has been in service with the US military for more than 50 years. It was a revolutionary rifle when it was invented, but over the years, it has evolved to become even better.
These days, many brands in the US make AR-15s. You can get simple and cheap Mil-spec AR-15s, which are also quite reliable, but even they can't beat the incredible reliability and effectiveness you get from a high-end modern AR-15.
The MOE EPT Rifle from Palmetto State Armory is an extremely well-built AR-15. This rifle has a 16-inch long Chrome-moly vanadium steel barrel chambered in 5.56 NATO, which is super strong and corrosion-resistant. The barrel is also threaded and comes equipped with an A2-style flash hider.
Palmetto State Armory ARs
Unlike most mil-spec AR-15s, which have large and bulky quad rails, the PSA  MOE EPT Rifle has a slim profile free-float M-Lok handguard. It is lightweight and allows you to mount a wide range of accessories. Inside the handguards, the rifle has a low-profile gas block, with a mid-length gas tube, which works reliably with the 16" barrel.
The receiver itself is made from Forged 7075-T6 aluminum. It features a dust cover to keep debris and dust out of the chamber, and a forward assist to help clear malfunctions. The bolt carrier group inside the upper receiver is made from Carpenter 158 steel and features a hardened Gas key to meet USGI specifications.
This rifle from Palmetto State Armory features a MOE Carbine Stock, Magpul grip, and Enhanced Polished Trigger. It is one of the best options for a high-quality AR-15 in the market.
Most Reliable Hunting Rifle – Weatherby Vanguard
Wetherby is an American arms manufacturing company that is known for its high-caliber hunting calibers. These powerful calibers like the .257 Weatherby shoot flat and fast, making them really accurate as well.
The Vanguard is a series of high-end hunting rifles from Weatherby, which are made to be super accurate, safe, reliable, and affordable as well.
One of the best features of Vanguard rifles that contributes a lot to their accuracy is their triggers. The trigger on every Vanguard rifle is hand-honed, and factory tuned to have a consistent and creep-free let off. The match-grade, the two-stage trigger is also adjustable, down to 2.5 pounds. Every Vanguard rifle guaranteed Sub-MOA accuracy.
All vanguard rifles have cold-forged steel barrels that have corrosion-resistant finishing. The barrels are designed to give you maximum accuracy, and on lightweight vanguards, they are also fluted. The action of all Weatherby vanguard rifles is very smooth and easy to work. Just the feel of working the bolt is amazing.
All vanguard rifles are also known for their incredible craftsmanship. The Weatherby vanguard series includes both polymer frame and wood frame rifles. Where the polymer rifles are lighter, the wooden furniture is absolutely amazing. The stock is well designed, and on all vanguard rifles, it has a rubber butt plate in the back as well, which helps with shooting comfort.
Vanguard rifles are available in a wide range of calibers, from .308 and 270 win mag to some of the Weatherby magnum cartridges as well. No matter what the caliber, Vanguard rifles have a guarantee of 1-inch groups at 100 yards. So, if you are looking for a super accurate, and reliable hunting rifle that also looks amazing, Weatherby Vanguard is the way to go.
Most Reliable .22 – Ruger 10/22
The Ruger 10/22 is one of the most popular .22 caliber rifles in the world, and for good reasons. First of all, these rifles are very affordable, and the ammunition they use is also super cheap. It is the perfect rifle for plinking at targets all day and is perfect for teaching new shooters how to shoot as well.
The 10/22 is a semi-automatic rimfire rifle, chambered in .22 Lr. it has many different versions, however, the most popular version is definitely the Ruger 10/22 carbine. This rifle has an 18-inch steel barrel and has both wood and polymer furniture.
The standard 10/22 rotary magazine fits flush with the frame of the rifle and holds 10 rounds or .22 Lr. The controls on the rifle are quite simple. It has a cross-block safety, a nice trigger, and a paddle-style magazine release. The iron sights on the 10 22 are really good. It has simple post and notch sights and has an optic mounting plate as well.
Another feature that makes the 10/22 an incredible rifle is that it has amazing aftermarket support. There are loads of different parts that you can add to your Ruger 10/22 to customize it according to your requirements. So, if you are looking for a super fun 22 caliber rifle to shoot at the range, or to teach your kids how to shoot, the Ruger 10/22 is an excellent option.
Most Reliable Bolt Action Rifle – Remington Model 700
Bolt action rifles are widely used for hunting and are an excellent option for long-range shooting as well. The Remington Model 700 is one of the most popular bolt action rifles in the US. And they are super reliable as well. Remington 700 rifles are also used by the US military as sniper rifles. This is a testament to their reliability and effectiveness.
There are several models of the Remington Model 700, and all of them have the same level of quality. One of the most popular versions of the Model 700 is the Adl. Which is the most affordable rifle in the Remington Model 700 lineup. To decrease costs, this rifle has polymer furniture, and instead of a removable magazine. It features an integral blind magazine, that has to be loaded from the top.
The Remington Model 700 bolt action rifle has a one-piece bolt that operates very smoothly in the chamber. The controls on the rifle are very simple. There is a simple safety on the right side of the rifle, near the bolt. The trigger is very light and crisp, which is ideal for a long-range rifle. The magazine capacity of the Remington Model 700 depends on the caliber it is chambered in.  However, for the most common, .308 caliber 700s, the magazine capacity is 6 rounds.
Most Reliable Lever Action Rifle – Henry
Lever action rifles have been around for a very long time, especially the Henry lever action, which is the oldest rifle mentioned on this list. However, today, replicas of the Henry Lever actions are made, which are reliable.
Originally the Henry lever action rifle was chambered in .44 caliber rimfire and it was introduced in the early 1860s, however, modern replicas are available in many different calibers including .22 Lr, .357 magnum, .45-90 Winchester, 44-70 govt, and many more.
The rifle feeds from an integral tubular magazine, and the action is very smooth and easy to work. Henry lever action rifles usually have a larger loading loop. Which makes it much easier for the shooter to work the action of the rifle.
So, if you want to feel like you are in a western movie, and want a cool lever-action rifle, there is nothing more reliable and effective than a Henry lever-action rifle.